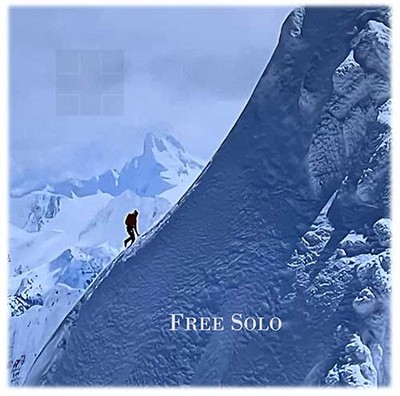 It was an untimely moment in the short life of a free spirit. An avalanche of powdered ice tore from the mountainside, burying all but the descending rope strand connecting alpinist to alpinist. An ironic passage given both climbers' propensity to go it alone in the most demanding of alpinist pursuits. This would become a fateful and final position in the foothold of two lives at the cutting edge of their pursuit. To experience the soul at its most pure, undiluted existence is to know the meaning of desire. That thing that makes the pulse quicken. It steals your breath. Lightens your head. Gives pause to reflection upon the notion of having travelled through a quantum passage long before the existence of the moment.
The purity of free solo is found in its isolation, where the focus becomes singular. One is performing a work in self-reliance as there is no rescue from mistake. It is the ultimate freedom and consequence. We can debate the ethics behind the confidence to put down a perfect solo climb. Perhaps such singular focus is at its base a narcissistic pursuit. How many times have visionaries been shunned by the uncomprehending as egocentric? To witness, film, or publicly log such individual pursuits—is this to promote reckless acts?
Be honest with yourselves, you who are among the over achievers. How many times have you ruminated upon the affliction of being driven to perfection? We can attest as winemakers to many hours given to intro-spection whereby we step back and ask, "Who the f*&% do we think we are?" If you ever have the opportunity to attend one of Deepak Chopra's enlightenment retreats, we say lean into it. He often begins with a shared meditation whereby one is asked by the person sitting adjacent to them, "Who are you?" This goes on within the vulnerability crucible for what seems a lifetime. With each passing repetition upon the question, one becomes acutely aware the shallow veneer that belies a truth within us. Who we are.
You will often hear us speak of our work in the wine business as one of vocation. Becoming a viticulturalist, winemaker, business manager, a proselytizer of profession was never a question. We were just pulled into it.
To make wine is to work. To make wine a work of art is to experience the significance of hard work. It
requires a singular focus upon what you believe your destination in perfection to be. To call that thing forth from desire—now that is knowing oneself, as it is here one will not find rescue from mistake.
We don't care how many times we hear, no thank you, I don't like Chardonnay. Our response will always be, have you tasted our Chardonnay? You see, Chardonnay is essentially a flavorless grape.
Were it not for the minds of elite growers and talented winemakers, the variety could—arguably—barely be considered noble without purposeful intervention. And, it is here that we find connection of singular focus and the perils in pursuit of perfection. So powerful is our compulsion that we simply refuse to believe you would not want to engage in the celebration of our creation. Especially when it comes to Chardonnay.
Kind of egocentric when you think about it. Right?
Consequence be damned, it sure feels great to put down an example of our vision for perfection in the glass.
2021 Richard Dinner Chardonnay | Richard Dinner Vineyard, Sonoma Mountain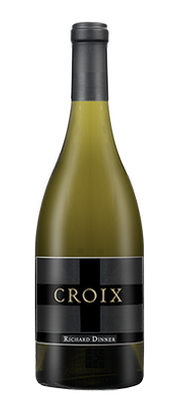 We weren't crazy about the first vintage production of this wine. It seemed as though it fell out-of-boundary of scope as it related to our vision for producing West Sonoma Coast and Russian River Valley Chardonnay. But leave to the coastal gods to teach us a thing or to about the long arm of coastal influence deep into the reaches of Sonoma County. Sitting at a peak elevation of plus 2,000 feet, facing west to the pacific ocean, directionally speaking, this vineyard lies at the target point of a roundhouse kick to the face of narrow-minded denialism. Those familiar with the Petaluma Gap AVA know that late afternoon breezes can quickly turn to brisk fog-outs that blanket fast swaths of square mileage and Sonoma Mountain lies in its direct path. Few Sonoma County wine regions are so singularly defined by elevation, exposure, and geographical fea- tures as the Sonoma Mountain American Viticulture Area (AVA). The appellation covers the hills east of Sonoma Valley with the Richard Dinner Vineyard planted to Old Wente clone in 1986. Combine soil and micro-climate diurnal temperature variation, organic viticultural practices, a deft hand at coaxing the finer nuances in naturally produced Chardonnay, and you have the recipe for producing perfection in the glass.
The 2021 vintage is a stunning, complex Chardonnay. Notes of tropical flower oil, sweet citrus, refreshing lemon zest, and toasted spices bring forth aromatic bliss. Rich and full-bodied, yet deftly balanced with cleansing acidity, caramel and rum cream that lead to a savory and delicious
balance of ripe pear, charred crème brûlée, and a bright, mouthwatering finish.
$75 | 6 Barrels Produced
2021 12 Rows Chardonnay | Ritchie Vineyard, Middle Reach, Russian River Valley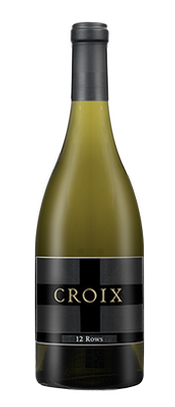 Many consider this to be one of the greatest Chardonnay vineyards in the new world. Let that sit with you for a moment as you sip and savor the wine in your glass. We find it all too easy to become jaded with our proximity to greatness within our industry. Or, perhaps it is just that the growers we surround ourselves with are just regular, old farmers. Down-to-earth stewards enraptured by a vocation that compels them to work their land. Humility in the face of such admiration is so very refreshing and reminds us that our daily bread is earned, one vintage at a time. All other conditions are unnecessary noise. Let us distill it in this way: we are blessed to be a part of Kent Ritchie's greatness.
There's nothing like the smell of an ultraripe, white peach tree just before harvest and this Chardonnay emotes that memory, letting you know with one sniff that pure greatness is at hand. This wine opens with seductive notes of honeyed toast, vanilla crème brûlée and caramelized brown sugar causing the mouth to water with anticipation. The balance of creamy richness and racy delicacy showcases a deft hand in the making of this wine. Lemon curd, loads of white peaches and grapefruit are topped with whipped cream and crisp, honey-baked green apples. Pure perfection in the glass!
$75 | 7 Barrels Produced
2021 Starlings' Roost Chardonnay | Dutton-Morelli Lane Vineyard, Green Valley, West Sonoma Coast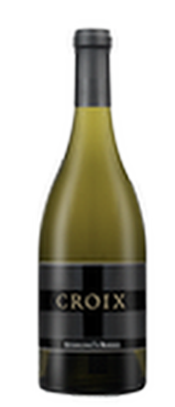 2012 was the year that Croix manifest as a reality, as the first two barrels of Dutton-Morelli Lane Vineyard Chardonnay were put to rest in the cellar. We were enraptured by this site's history, location, and the deafening cacophony emanating from thousands of roosting Starlings. Positioned within the Occidental Cordillera, this is home to hallowed earth, revered by many a talented winemaker. Planted in the late 1890's, it is a temperate vineyard location sitting above the fog line, subject to piercing, midday sunshine, deceiving its proximity to the Pacific Ocean. In our quest to produce Chardonnay that will age for a decade or longer, our production of Starlings' Roost Chardonnay has proven our postulations regarding lengthening the varietal lifespan.
Honeyed Earl Grey tea, Meyer lemon curd and scents of lightly toasted pine nuts bring us back to the founding vintage of this wine. Sweet pink grapefruit, ripe Gravenstein apples balance sweet and tart to perfection, leading to a round, lengthy finish of Hawaiian pineapple, cinnamon, cloves and a dash of toasty vanillin. Medium bodied, yet light on the palate without the cloying viscosity often found in Chardonnay. Another glass please!
$75 | 6 Barrels Produced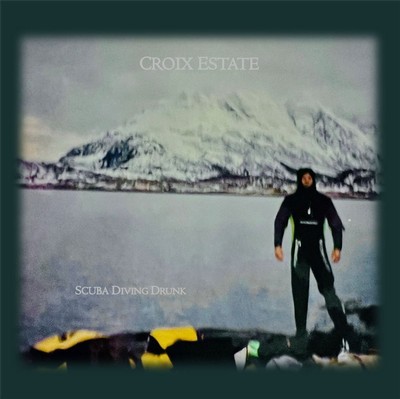 Whispering shadows clung to the walls like twisted cypress on a rugged, cold coast. It was 3:30 am. The arctic sun was in full attention and without warmth. The fire had gone out in a northern, Nordland County cabin. No heating. No electricity. No running water. A different culture had taken over the decision-making process of what was safe. The men here are thoroughbreds – narcissist wunderkind, watermen, hardened sailors of unforgiving seas – and focused on making one last push into the water. They were also determined to finish initiating the visiting American. "Våkn opp!! Now is time we fish. But first we dive Saltstraumen!" Dry suits, weight belts, air tanks, and thickened snow boots raked across an icy single-track trail. Our breath was blurry, viscous, and laden with the prior evening's drunken, aquavit laden tussle. The diving watch didn't lie – two hours of sleep. There was no way we were sober. This was not safe. This was not sound. This was an insane right of passage.
Ask any Dive Master, "What's the most dangerous form of scuba diving one can do?" "Scuba diving drunk." Even slightly intoxicated diving can be deadly. It is grounds for disqualification among your diving group. An expulsion off the boat for irresponsible, unserious adherence to safety.
Scuba diving the Saltstraumen in Norway – in any condition - is the temptation of fate not to be taken without serious, sober consideration. Yet, those born with an innate, ambitious drive know all too well that logic often falls to emotion when called to rise in the moment. We assume we can handle it.
Fact is, intelligent people behave dumbly when challenged. And, so it is here at Croix Estate. Intelligent, insightful, earnest people who exhibit just enough moxy to get sucked into the vortex of pursuing perfection.
10 years ago we started this Croix Estate thing with fifty cases of Chardonnay and fifty cases of Pinot Noir. Russian River Valley would be our focus in a heady pursuit. Look at us now. Rowing deeper into the dark, brooding waters, falling to the Sirens on the rocky shoreline of Coastal Pinot Noir. For goodness sakes, what are we thinking?
We remember what we used to say about coastal Pinot Noir. "Yummy!! Super-sour cherry pie. How many scoops of sugared cream would you like with that to make it palatable?" But here we are. We have cleansed our faces of many eggs, my friends. We are pushing deeper into our destiny, and it now includes the northern reaches of California.
It begins here, with the allocation of 2019 Kings Ridge Pinot Noir from the Fort Ross-Seaview AVA. This is rugged, beautiful country folks. A supreme location where we intend to wrest pure, ripe, balanced and pleasurable mountain Pinot Noir from the rugged soil in which it is grown.
This is risky business. Våkn opp!! Now is time to fish. But first we dive Saltstraumen!
Debut Vintage - Croix 2019 Kings Ridge Pinot Noir | Fort Ross-Seaview, Sonoma Coast | Acquire Your Allocation Here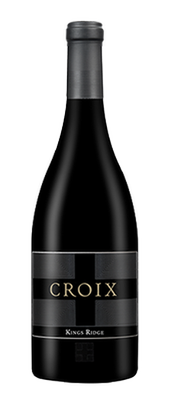 In Burgundy, France, the highest level of vineyard classification is Grand Cru, or those appellations that are considered the elite within the growing region. While California does not have such a classification system, if ever there were an "elite" vineyard classification system within the Russian River Valley and Sonoma Coast appellations, Cinghiale Vineyard would sit squarely within this classification. Purchased by Dave Del Dotto in 2005, the "Cinghiale" (Italian for wild boar) Vineyard is named for the frequent inhabitants of the property.
Overlooking the Pacific Ocean, it consists of 359 acres at the top of Kings Ridge in the Fort Ross-Seaview appellation, and is planted with 43 acres of Pinot Noir, with remaining parts Syrah, Chardonnay, and Sauvignon Blanc. It features a broad diversity of Pinot Noir clones with lineages hailing from the top vineyards in Burgundy, as well as select top-rated clones from its neighbors in California.
Located in the coastal hills above Fort Ross State Historic Park, overlooking the Pacific Ocean, Fort-Ross Seaview is one of Sonoma County's most distinctive AVAs in our opinion. Carved out of the larger Sonoma Coast AVA in 2011, the 27,500-acre Fort Ross-Seaview AVA was given special consideration for its soaring elevation and remote, rugged location, where its current 500 vineyard acres produce some of Sonoma County's most sought-after Pinot Noir and Chardonnay. The area bears significant historical weight as it was here that Sonoma County's first winegrapes were planted in 1817 at the fur-trading Russian-American Company's outpost at Fort Ross.
The area's modern viticultural history didn't begin until 1973, though, when sheep rancher Mick Bohan, struggling with low wool prices, planted Riesling as a cash crop. Today, Pinot Noir and Chardonnay plantings dominate the AVA. To understand Fort Ross-Seaview, picture a vineyard on the crown of a coastal ridge, surrounded by a sea of fog. Although the AVA is located just a few miles from cold Pacific Ocean waters, between Jenner and The Sea Ranch, it is also significantly defined by its higher elevation. In the summer, vineyards bask in warm sunlight, sitting above the damp belt of fog that invades the Petaluma Gap and Russian River Valley. Fort Ross-Seaview is an essentially chilly climate on the edge of grape-growing possibility, yet, at times, may receive more sunlight than areas like Green Valley of the Russian River Valley, which is defined by immersion in fog. For this reason, we feel confident that to not establish a winegrowing front in this emerging region is to miss the opportunity to produce Pinot Noir from what will no doubt become California's premier winegrowing region for Pinot Noir.
We pick from two distinct blocks within the Cinghiale Vineyard where Pinot Noir clones 777 and 828 comprise the blocks. Clone 777 is built to age, with dense, complex, highly structured tannins, complemented by exotic spice aromas, black cherry and cassis flavors with silky texture. Clone 828 has elegant, structured tannins with balanced acidity and brooding dark fruit. Fermenting the two blocks separately provides an ideal opportunity to blend the final output to balanced perfection.
WINEMAKER'S Record
Among our most substantial, complex wines within our mix of single-vineyard Pinot Noirs, this wine is a rare beauty. Raw honey and crème de cassis hit the senses, quickly leading to licorice, black cherries, sweet tobacco leaf, blue herbs, cream soda, cardamom and coconut. On the palate this wine is massive and full-bodied with blueberry compote, candied raspberries, plum concentrate, bittersweet
cocoa and crushed espresso bean, with mouthwatering acidity and a perpetual finish. Delicious!
Degrees Picked: Pinot Noir Clone 777—26.2 | Pinot Noir Clone 828—24.4
Method | Pellenc Destemmed, 5 Day Cold Soak, 10% Wholecluster (Clone 828) 20% Wholecluster (Clone 777) 100% Carbonic Native & D254 Inoculation, Open Top Fermentation With Cap Submersion (Clone 777) and Hand Punch Down (Clone 828)
Aging | 16 Months, 50% New French Oak
Production | 7 Barrels
Clarifying | Barrel To Tank, Bottled Unfiltered
List Price—$95 |
Pod Location Footer Subscribe is not a valid pod location